Last Updated: Tuesday, Nov 22, 2011 18:07 GMT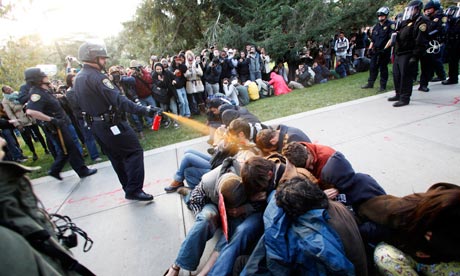 Michael Moore Blames Homeland Security For Pepper-Spray Brutality
Filmmaker Michael Moore blamed the Homeland Security-funded militarization of college campus police for the shocking incident Friday where a University of California police officer pepper-sprayed demonstrators directly in the face, labeling the footage the 'Occupy' movement's Tiananmen Square moment.

Kissinger's 'Favorite Communist' Paves Way for Mario Monti to Govern Italy
An ex-communist who once praised the Soviet Union for crushing the 1956 reformist movement in Hungary.

Repression worse now than under Mubarak, says report
Amnesty International on Tuesday accused Egypt's rulers of levels of brutality that sometimes exceed those of Hosni Mubarak's regime.

Pakistan Taliban 'declares ceasefire'
The Pakistani Taliban has declared a ceasefire to encourage nascent peace talks.

Experts Admit Fukushima is Causing Hidden Cancer Deaths
Health and radiation experts are now admitting that the Fukushima disaster is contributing to an unknown number of deaths.

TSA Agents Think They Are Above The Law
Yet another example of a TSA agent engaging in rampant criminality and believing themselves to be above the law emerged yesterday, when 52-year-old TSA worker Harold Glen Rodman allegedly approached a woman in full uniform before flashing his badge and proceeding to brutally rape and sodomize her.

• Airlines worry frustrations with security procedures contributing to decline in travel
• Please Support Us With a Donation
"Second Revolution" Rocks Egypt
Military reneges on Wall Street mandates, gets second wave of protests aimed at them.

Mossad vs Assad? 'CIA death squads behind Syria bloodbath'
Moscow has accused the west of stirring up tensions in the Arab world by calling for the overthrow of the Syrian regime.

• Russian warships off Syria, US carriers near Iran

Several hurt as Saudi forces fire on protest: report
The demonstrators had taken to the streets in the town of Shwika.

Russian News Anchor Gives The Middle Finger During A Report On Obama
Russian News Anchor Tatiana Limanova put up her middle finger during a report on President Obama.
What price the new democracy? Goldman Sachs conquers Europe
While ordinary people fret about austerity and jobs, the eurozone's corridors of power have been undergoing a remarkable transformation.

• As the World Crumbles: the ECB spins, FED smirks, and US Banks Pillage

Ron Paul's Texas Straight Talk 11/21/11: Dr. Paul's Message to the Super Committee
This week marks the deadline for the so-called congressional Super Committee to meet its goal of cutting a laughably small amount of federal spending over the next decade.

Well-Dressed Gunman Attacks Occupy Houston, Fires 15 Rounds
Violence broke out at Occupy Houston's Tranquility Park site Monday evening.

Computerised contact lens will keep you up to date with news and texts
Messages and images would simply appear in front of your eyes, generated by a computerised contact lens.
Radiation covers 8pc of Japan
Japan's science ministry says 8 per cent of the country's surface area has been contaminated.
----------------------------------------------
NOVEMBER 2011
1 2 3 4 5 6 7 8 9 10 11 12 13 14 15 16 17 18 19 20 21 22 23 24 25 26 27 28 29 30