Last Updated: Saturday, Nov 19, 2011 12:05 GMT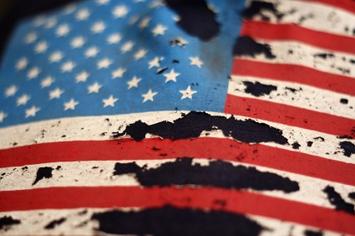 9 More Ways The U.S. Government Is Waging War Against America
By the "U.S. Government" I mean the globalist traitors and evil banksters who hijacked America in 1913.

• Please Support Us With a Donation
1 Through 30 – The Coming U.S. Financial Crisis By The Numbers
The United States is drowning in a sea of red ink from coast to coast and most Americans have absolutely no idea what is about to happen.

Oakland Police Strike Army Ranger With Nightsticks On His Back, Ribs, Shoulders and Hands, Lacerating His Spleen and Causing Internal Bleeding
Video of the attack has just been released.

US Presidential Elections: GOP Candidates Advocate Torture
At last week's debate, Republican presidential candidates Herman Cain and Michelle Bachman defended waterboarding. Cain said, "I don't see it as torture.

• Jesse Ventura There's Only ONE Person I Like At All That's Ron Paul!
Israel's Plan to Destroy Iran's Civilian Infrastructure
Iran to be pitched into Stone Age just like Iraq.

Britain in secret talks with Syrian rebels
Britain has formally opened talks with the Syrian opposition movement.

• Clinton says 'there could be a civil war' in Syria

Game Simulates Cop Killing: Infowars Nightly News
Aaron breaks down video games that promote cop killling.

Save the Internet and Boycott These Companies
Countless alternative news outlets at risk of being shut down.
Supercommittee failure could trigger US credit downgrade, economists warn
Economists are warning of dire consequences if US politicians fail to make progress this weekend.

• Analysis: IMF can no longer avoid bigger role in euro zone
• MF Global: Was It A Hit?
• DYLAN GRICE: Germany Is Making The Same Mistake That Allowed The Nazis To Come To Power
Second experiment confirms faster-than-light particles
The "positive outcome of the [second] test makes us more confident in the result,"
Sprint Launches Soon To Be Mandatory Emergency Alert Messages
Americans will be forced to receive spurious terror alerts.
Egyptians return to Tahrir Square to protest against military junta
Tens of thousands of Egyptians have returned to Tahrir Square to protest against the military junta, in one of the biggest protests seen in the country since the toppling of Hosni Mubarak.

• Ex-Soviet states take first step to 'Eurasian Union'
----------------------------------------------
NOVEMBER 2011
1 2 3 4 5 6 7 8 9 10 11 12 13 14 15 16 17 18 19 20 21 22 23 24 25 26 27 28 29 30