Last Updated: Friday, July 29, 2011 22:31 BST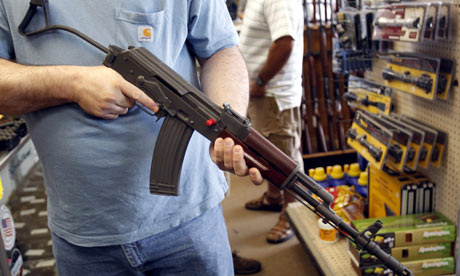 Exclusive: ATF Intimidates Gun Owners With Home Visits
Federal agency attempts to make firearms retailers spy on their customers under new illegal directive.

• Please Consider Supporting Our Work With a Donation
U.S. Treasury Pushes War Propaganda Claim al-Qaeda and Iran in Cahoots
Evidence reveals opposite — Iran has tried to cooperate with U.S. on turning over alleged al-Qaeda members.
Assange speaks about 'burning mass media to the ground'
"We are becoming the agents of perspective," he said.
• Talking with Madmen, Playing for Time
Lockheed Martin Wins $72 Million Contract To Install Body Scanners
Even as the US economy teeters on the brink of default, the federal government has handed a $72 million dollar contract to defense contractor Lockheed Martin to install radiation-firing body scanners at 300 more airports across the east and central United States, despite the availability of devices that do not rely on radiation to function.
Giant Banks Lobby to Raise the Debt Ceiling and Slash Public Benefits … So They Can Keep Sucking at the Public Teat
No wonder the fatcats running the giant banks are screaming loudly that the debt ceiling must be raised.

'Braindead' West wants Jihadists to rule Libya – ex-CIA officer
A suicide attack on a government compound in southern Afghanistan has left at least 19 dead and over 35 injured.

Romans 13: Setting It Straight
The thinking and philosophy of Christians and churches regarding Romans 13 must change.

The War on Libya : An Imperialist Project to Create Three Libyas
The NATO war launched against Libya in March 2011 was geared towards the breakup of the country into three separate entities.

• Libyan rebel commander killed
Conservative debt ceiling ad warns of future 'economic slavery'
"This is a warning from the future. America's future,"

The World's Biggest Central Bank Has Private Shareholders
The Bank for International Settlements (BIS) is owned by the world's central banks.
Google Offers To Re-Write Your Webpages On The Fly
Like many creepy Google 'features', this might even be turned on by default.
4 Recent Scientific Blows to the Global Warming Theory
The science behind the anthropogenic global warming theory appears to be falling apart with each new scientific study.

GMOs killing off Monarch butterflies, report finds
You have likely seen them dancing through the air and gracing the petals and leaves of various plants and shrubs.
Rahm Emanuel Imposes Tween Curfew
Parents who let their kids under 12 stay out past 8:30 p.m. on weekdays and 9 p.m. on weekends will pay a heavy price.